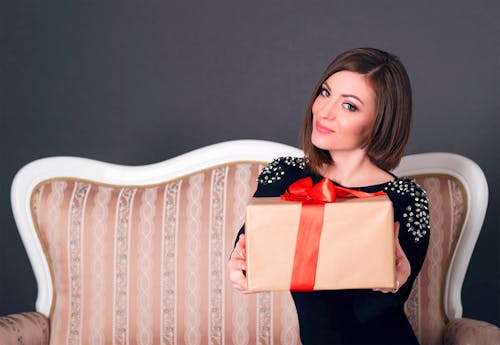 We often see blogs about buying gifts for birthdays, weddings, among other parties for various people, but hardly any for writers. Is it that we have no writer friends? Or don't they need gifts?
Your writer friends could use gifts. Whether it is on their special occasion or a regular day, carefully selecting gifts for writers can come in handy for their careers.
When it comes to DIY gifts for writers, there is plenty in the market. I have engaged several gifts pundits, gift wrapping experts, and etiquette coaches. As a result, come up with the perfect gift advice and suggestions for you. Heed to what they have to say below.
Before Choosing a Friend's Gift...
What will matter to a writer after you've handed the gift to them is that you took the time to think through what to get them first. A well thought through gift will meet the needs of every writer.
Even though sending a message on a gift card can be considered a present, it is often not enough. Go the extra mile to get something they will find useful in their daily routine and customize it if possible.
Think about what they love and what they dislike. Would they rather have gadgets or something else? What is their favorite color? How does their workstation look like? Is there something they are lacking? Asking such questions will help narrow you down to an ideal gift.
Wrap the Gift Well
I know what you are thinking. A glittery wrapping paper covering a box with stuff within.
That's good. But not good enough.
Why would you want to use something that goes everywhere? There is much better wrapping material with great designs you could use. You want your present to get a five-star rating from the recipient the moment they see it. Get a paper that is 300 grams per square meter.
Some presents require that you buy a huge packaging box. You don't want to follow their weird contour during wrapping to make a poor presentation. Use ribbons to make it more attractive. A tape with double sides will make it look professional and presentable. But before you do the wrapping, ensure you have accurate measurements
Think Technology
The writers of today no longer use fountain pens and paper to write. They sit in front of a computer and type away whatever is in their mind. Even when they are out in the fields, they will carry a laptop or any other mobile device for their work.
Those that still use paper and pens, will need a minimalist notebook and an appealing pen. Buy a gift that you would want someone to get for you if you were the recipient.
Budget Appropriately
You might want to buy the world for the writer in your life particularly if they are close. But often, money constraints won't allow it. That does not mean you settle for the cheapest in the market. Make it special. Feel the pinch. Make it a premium with a significant investment from your pocket. If possible, take time and save for the gift.
Make it a Surprise
Who doesn't love surprises? Some claim that they hate it until you amaze them with a beautiful gift. Sometimes offering gifts on holidays, anniversaries, and birthdays can be obvious. Find a different opportunity to present your judicious present. Leave it somewhere they can spot, and wait for their call.
Here are the Perfect Gifts for Your Friend
The challenge is to find the perfect gift. But d
on't fret. I've done the legwork for you. And here are the perfect gifts you can give your writer friend:
Buy a Comfortable Chair
Writers sit down for long hours. Ergo, they need a comfortable seat. One that can support their weight and give a proper fit. Look for a chair that can withstand stress, easy to clean, and quick to move around.
Since the days of glacier mummy Ötzi, leather makes durable seats and has proved to produce the best there is. If you have the means, spend on such. Doing this will end any future need for your friend to buy another seat.
Go unique with your selection when it comes to color combination. You want them to go "wow" when they unwrap it. Let it have wheels and have adjustable components so they can configure it according to their liking. Don't compromise on coziness here. Choose high-end office sitting equipment. Or go with racing seat designs used by gamers. They won't disappoint.
Gift Them a Laptop Bag
If you are looking for something to brighten your writer friend's mood, a colorful laptop bag is a thing to choose. You want to pick a bag that gives them confidence knowing that their stuff is safe and they look good as they move around.
Look out for the number of pockets on the bag. Internal compartments should accommodate at least two mobile devices and a notebook. The eternal pockets are great for other items like pens, MP3 players, smartphones, plus other small digital items.
For easy carrying, make sure the handles are padded. It can be those which load on the back or the ones you can hang on the shoulder.
A Pair of Socks for Warmth
While doing their writing in a single position, writers can feel cold. The legs bear all the effects first. Buying socks will contribute to their coziness and warmth in a big way. Even if they already have socks, it is never enough.
Because this product intends to keep them warm, ensure they are thick and long. Adorable cool models work great for freelancer writers who stay at home. Multiple colored socks are on fashion these days.
Have they complained about their office being cold? Lucky you, because purchasing a pair of socks will solve their problem. You can also go for socks that can be used on normal occasions if you think it will fit them well. It depends on your recipient. What do you think they'll love?
Safety Optics Glasses
It is an established truth that staying in front of a computer for long has its effects on the eyes. The blue light emission leads to the development of cataracts, which eventually works to damage the retina.
Unfortunately, a modern writer has no option but wake up each day and deal with this light from their phones and the screens in front of them. For this reason, get them optic glasses. These glasses will eliminate damaging light from reaching the eyes.
Find different models in the marketplace. Their ability to offer protection will vary depending on the manufacturer. The designs will vary from vintage to modern appeals.
Some, apart from the glass part, will have plastic, metal, or any expensive ornaments. Meaning, the price will vary according to their ability and makeup. Apart from looking good, these glasses will keep your friend from eye strain.
Music Headset
As part of motivation, writers listen to music while they write. But because it's not a priority to their career, most settle for cheaper earphones or headphones. That is a gap you can fill by finding headphones that come with great quality. The perfect amplification, trebling, and basing listening gear is what you want. One that they can access exceptional quality sound as they write.
The market has various designs which come in a variety of colors, shapes, and sizes. Find a headphone with effects they can adjust according to their taste. You can choose to go with wireless or those that come with cords. The right choice will make them have you in their heart forever. Don't forget elegance and style as you buy.
Pay for Their Subscriptions
Sometimes it is not all about physical items. You can buy your friend services as well. Pay for their gym for a full year. Find out if they've paid for the Wifi. Do they use any tools that need regular renewal?
You might find out that they are lagging on their Grammarly monthly payment. With this tool, they check plagiarism and writing errors. Or maybe it is that time of the month when other subscriptions need fees. Find out from them and offer to make the payments on their behalf.
There you go! Gift a Writer
The list is endless, my friend. This point is where to start your considerations. But there are thousands of gifts that can excite a writer. Whether at your local store or online, ensure you put in great thought. Work on your budget and make an accurate choice. Good luck!